We're a Saturday Music School with more than 10 years of experience in teaching students of all ages and ability.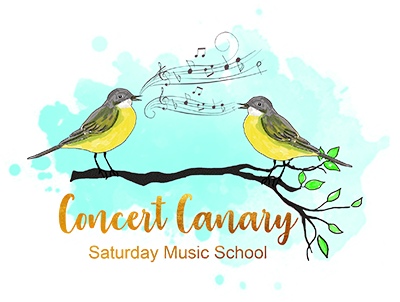 My 7 year old daughter goes to Concert Canary on Saturdays. Manda is always so helpful and kind. She has given us excellent advice when buying a new piano, when my daughter is struggling with her practice, etc. She is always ready to listen and help. I personally love going there, it feels like being part of a big family. The concerts are also a fantastic opportunity for the children to perform in public, and my daughter has enjoyed that, which is lovely. She also has great teachers: enthusiastic, really knowledgeable and also very supportive when in need.

Wonderful to have such excellent musicians teaching my children. They have individual lessons and also group musicianship lessons. They have really enjoyed the group music classes. They loved composing music last term as a group and using this composition as the soundtrack to a short Lego film.

Excellent local music lessons on Saturdays. Teachers are very attentive and explain musical concepts in easy to grasp and playful way.
This is custom heading element